About Us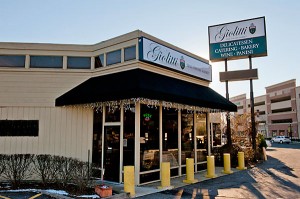 Founded in 1992, Giolitti's is a full-service Delicatessen specializing in authentic Italian cuisine. The emphasis here is on fresh ingredients prepared to time-honed recipes, value priced and served with pride. Owners Mary and Gene Giolitti combined their passion for great food and fine wine to offer Annapolis a true taste of Italy!
The Giolitti name has been synonymous with great food since opening their first "latteria" (a shop specializing in milk, cheese and other dairy products) in Rome in 1889. Business flourished and is still going strong today (www.giolitti.com). Mary and Gene Giolitti moved to Annapolis opening Trattoria La Piccola Roma in 1991. A short time later they opened Giolitti Delicatessen, recognizing the need for an Italian market and deli that would offer gourmet as well as traditional items.
Our Catering Director, Cheryl Molesky, came on board in April of 1999. She had worked with the Giolitti's since 1993 at their original restaurant, La Piccola Roma which she managed. In addition to being a self proclaimed "foodie", Cheryl has several years of food styling and extensive catering experience.
The rest of the staff at Giolitti's is comprised of a talented and committed group of individuals dedicated to following the basic philosophy of giving you, the customer, the ultimate in quality (imparting the highest standards in purchasing), service (giving the utmost attention to detail and courteousness), convenience (offering one-stop shopping) and value (you would be hard pressed to find a better product for the price!)! With your comments and suggestions (contact us), we hope to continue to improve in order to give you the best product possible!
Meet some of our staff!